A New Era of Affordable, Fast Built, More Sustainable Homes is on the Way
Posted by Cyndy Nguyen on Thursday, December 9, 2021 at 4:46 PM
By Cyndy Nguyen / December 9, 2021
Comment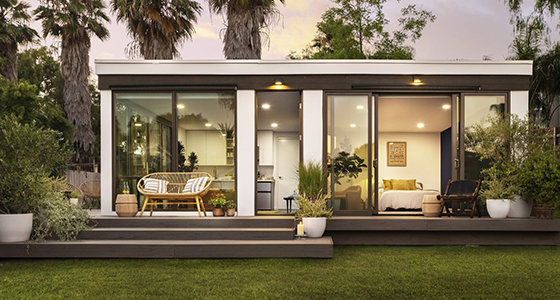 Key Takeaways:
Using 3D printing in the creation of a home reduces waste and labor costs.
Construction tech companies can 3D-print the frame and walls of a house in under 48 hours.
The high initial costs of the technology are likely to keep 3D-printed homes a niche product for now.
With home prices rising and housing inventory tight, home buyers are craving a wider variety of options in a competitive market. While construction has picked up, labor shortages and the rising cost of lumber remain challenges. The U.S. is nearly 5 million homes short of meeting market demand. A new crop of companies say they have a solution: 3D printing technology. And their work could transform the way we build houses on a broader scale.
MIGHTY BIG PLANS
Mighty Buildings, a construction technology company based in Oakland, Calif., has gotten a foothold with small (and tiny) 3D-printed houses and has ambitious plans for the future. Founded in 2017, the company began in "stealth mode," developing its technology before emerging on the market last August with $30 million in backing. In February, the company announced that it had raised an additional $40 million.
Mighty Buildings currently sells Mighty Mods, accessory dwelling units that are set up on the same property as an existing home and that range from 350 to 700 square feet, and Mighty Houses, which range from 400 to 1,440 square feet. Each home is manufactured on a prefabricated model and then shipped and installed on the purchaser's land.
MIGHTY MODS: Accessory dwelling units can be printed in 24 hours.
To date, five units have been delivered to customers, with two additional units awaiting delivery, and 30 more units have been contracted and are in the production pipeline. The products' low prices—Mods start at $187,250, Houses at $221,500—follow the company's vision, says Helen Chong, head of marketing and public relations. "Mighty Buildings aims to make construction more sustainable, efficient, and affordable," says Chong.
The homes are printed with a synthetic stone the company invented called Light Stone Material and are assembled in the company's factory. Mighty Buildings' Big G printer creates 3D-printed panels that are applied to a steel frame. Robots add insulation and interior woodwork. Finishes that look like siding or brick can be applied to the outside. Workers add items that are too complex for robots to assemble, such as cabinets, HVAC systems, and appliances.
Chong says Mighty Buildings can print a 350-square-foot home in under 24 hours with virtually no waste, since the process entails printing only what is necessary. She estimates that the process is 30% to 40% cheaper than traditional construction.
Recently, the company began work on what it calls "the world's first planned community of 3D-printed homes" in Rancho Mirage, Calif., in conjunction with Beverly Hills–based developer Palari. The community will consist of 15 1,450-square-foot homes and is expected to be completed by next spring.
HOUSING FOR ALL
Austin, Texas–based ICON also has lofty plans. The company began in 2017 with $9 million in seed money, and by the next year, it had printed its first house, a 350-square-foot dwelling in Austin that was permitted but never sold. Last August, ICON raised an additional $35 million in funding.
The company is currently printing houses for the Community First! Village in Austin in partnership with Mobile Loaves & Fishes, a charity that addresses homelessness. ICON's 400-square-foot homes will eventually be part of a 51-acre community that will house an estimated 480 formerly homeless individuals. ICON's plans involve creating housing for all income levels, says Dmitri Julius, chief people officer. "The aim is to shift the paradigm of home building," he explains.
ICON 3D-prints homes onsite using its Vulcan II printer and Lavacrete, a proprietary cement-based material. Julius says the process can print a home in less than 48 hours using a minimal number of workers and virtually no waste.
The company has also begun work on its first mainstream residential project, offering homes for sale in Austin. In partnership with Kansas City, Mo., developer 3Strands, ICON is building a community of four single-family homes. The two-story homes will range from 1,000 to 2,000 square feet, with a 3D-printed ground floor and a traditionally constructed second floor. The homes should be move-in ready this summer. As of early spring, one house had sold, and another was under contract.
ICON plans additional projects with 3Strands. "This is just the beginning of opportunities for 3D-printed homes in the mainstream market," says Julius.
PARTNERING WITH A SALES AGENT
In a field full of firsts, Patchogue, N.Y.–based construction tech company SQ4D has one of its own: the first 3D-printed house to be offered for sale on an MLS.
Stephen King, a salesperson with Realty Connect USA in Patchogue, listed the 1,400-square-foot house in Riverhead, N.Y., in late January for $299,999. By early March, the house had found a buyer and gone under contract over asking price—even though the house hadn't been printed yet.
Prospective buyers were able to view a 1,900-square-foot model home constructed in nearby Calverton at an open house. The model required 48 hours of print time over eight days and was built with less than $6,000 in materials. Printing on the Riverhead house is expected over the summer.
For all its promise, obstacles keep 3D-printed homes a niche product, starting with the price of a printer, ranging from $180,000 to $1 million. Ludivine Cherdo of the 3D printing consultancy Aniwaa says that certification of the 3D printing process is more complex than it is for traditional construction. "It's about certifying metal parts," says Cherdo. "Standardization is still complicated at this point."
The technology's place in the wider construction world will likely involve a hybrid approach to building. Mighty Buildings, ICON, and SQ4D are already operating on a hybrid model, using workers to supply what a 3D printer cannot. And it will take time to convince developers, regulators, municipal authorities, and buyers that 3D-printed homes are well built and safe and hold their value. Still, traditional builders are noticing of the benefits of 3D printing. Luxury home builder Forté Specialty Contractors in Las Vegas recently purchased a 3D printer that produces small-scale models for clients made of acrylics, allowing them to see changes in advance. "They've made the process a lot more fun," says Scott Acton, Forté's CEO. The company also uses the printer to create artistic features and other home elements that would typically require hand carving. Adds Acton: "As 3D printing advances, the ways it can be applied to construction will only develop further. I'm excited to see what happens."
Copyright Realtor Magazine 2021